Wilson's Mills Farmers Market
Many people have reached out to us asking if we will have a Pumpkin Festival in 2022. As you may know, the Wilson's Mills Pumpkin Festival has been cancelled for the last 2 years due to COVID. Although we are disappointed that this festival has not been a part of our community in the recent past, we are happy to announce that in May of this year we will be establishing a Wilson's Mills Farmers Market!! It is important to the Council and Staff of Wilson's Mills that everyone has access to fresh produce, homemade items, and unique gifts. Our hope is that this Farmers Market will allow everyone both in town and elsewhere to have access to these goods.
Are YOU interested in selling at our farmer's market?! Access all the forms and applications and contact Emily at Town Hall with any questions you may have. You do not have to be a Wilson's Mills resident to be a vendor. We cannot wait for you to be a part of this journey with us!
Farmers Market Application - Vendors 2023
Farmers Market Application - Concession Truck Vendors 2023
Wilson's Mills Community Park
Play Rugby Johnston County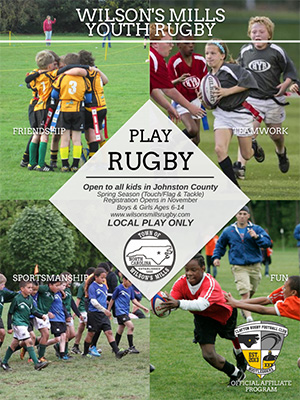 Wilson's Mills Youth Rugby is an in-house program offered by the Town of Wilson's Mills, with assistance from the Clayton Rugby Football Club.
The program is for boys and girls ages 6-14. The program focuses on providing a family friendly and community focused delivery of rugby programs to the youth of Wilson's Mills and Johnston County, North Carolina.
The program offers multiple age groups and both touch/flag rugby and tackle rugby options. All games are played locally on Saturday mornings, no travel involved.
The program coaching philosophy is teaching the sport of rugby using FUNdamentals and holistic coaching techniques. All program coaches are USA Rugby Certified and have been background checked.
Check out the website for more information!!